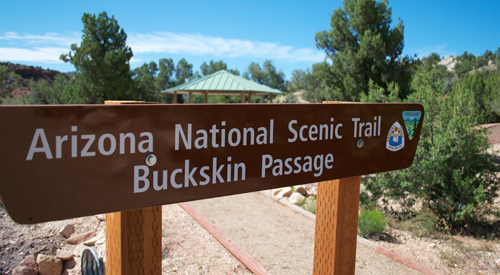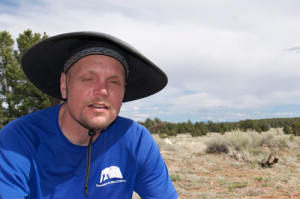 Well… I made it! The final number of miles hiked on the AZT was 782. It took me a bit longer than we had originally planned with a total of 57 days from start to finish. The 45 days of actual hiking gave us an average of 17 miles a day. Thanks to the help of some incredible guides and with some awesome logistical support I have now become the first blind man to hike the Arizona Trail in its entirety. I could not have made this hike without the assistance I received from The Foundation for Blind Children, friends and family. Also knowing that the hike was benefiting some visually impaired kids gave me the additional impetus I needed to succeed. We raised just under $22,000 for the FBC. Thanks to everyone who donated. You Rock!
There were ten guides and four people that ran logistics I need to recognize and thank from the bottom of my heart. Ben Cane and Yancey Herriage were instrumental in this journey being successful. Ben and I spent hours working out the logistics and itinerary. Ben also spent days working on the website and made sure anything involving a computer was taken care of. Yancey really came through with our food from Wal-Mart and picked up the GPS that made life so much easier. He also loaned his SUV to run over 500 miles of logistical support. The three of us hiked the first 582 miles together.
The only reason they didn't make the entire hike was due to time constraints (partially from my injury). The forth man with us on this team was Yancey's father Anthony Herriage (Sarge). Not only did Sarge do an excellent job of meeting us in the evenings where possible, but he also met us with water throughout the day when needed. He sometimes would hike as much as ten miles to meet up with us.
After Ben, Yancey and Anthony had to get back to their jobs, I was fortunate enough to have some amazing people step up to help me finish. My father in law Dave Dicob did an excellent job of logistics. He took care of me and my teams through to the Grand Canyon. I can't remember the last time I laughed so much. Shane Martinez (a bass player from one of my old bands) guided me for 35 miles. Bob Pelikan guided me through the worst weather of my hike. We spent two of our three days together pushing through rain, sleet, and snow for about 40 of the 65 miles we hiked together. Ben jumped back in to guide me another 60 miles. Cat Isfan led me across the Grand Canyon for a total of 21 miles with me then he turned around and hiked back the next day (Awesome). Doug Myster hiked with us to Phantom Ranch and took some great footage of the canyon. Marc Ashton and Tobin Ernst guided me the next 25 miles while Tobin's father Forest ran logistics. Then the last three days Tom Edwards and Gina Bowman guided me over 60 miles while Barb Edwards ran logistics and basically took great care of us.
Thank you all again. There is no way I could have done it without you.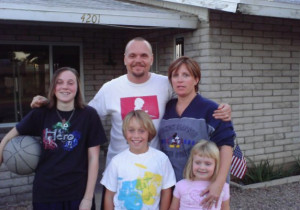 This adventure would not have been possible without the love and support of my family. Being away from Tori and the kids was one of the hardest parts of my journey. Hearing their love and support over the phone helped me push through some of the more difficult days.
The Arizona Trail was a truly amazing experience. My friends and I were blessed to get to move through some of the most beautiful country in Arizona. When I first thought about the AZT I imagined a whole lot of desert with a bit of forest here and there. This was far from the reality we faced. I was stunned by the sights described to me. I could hear the awe in my guide's voices as they described the ever changing terrain.
One of many things that lifted my spirit was the amount and different types of trees we encountered. There is far more forest in Arizona than I ever imagined. The Arizona Trail takes you through several mountain ranges. You start off with a 3,500 foot ascent of Miller Peak. This brought us in to some snow at an elevation over 9,000 feet. The next major mountain we hit was Mount Wrightson at a bit over 8,000 feet. Then Rincon (day nine) a gnarly hike to 8,400 feet giving a breathtaking view of the lights of Tucson. Then you still have Mt. Lemon, Four Peaks, Mount Peely, Mazatzals, the Mogollon Rim, The Grand Canyon, Sabino Canyon and Mount Humphreys. These are just a few of hundreds of hills, valleys, canyons and mountains we hiked on, over, around or through on the AZT.
I absolutely recommend to any outdoor enthusiast to check out some or all of the AZT passages. You will be challenged at times, but you will not be disappointed. One does not have to see the view to appreciate the magic found in our amazing state. You can quite literally find any kind of landscape that touches your soul.
The big question everyone has been asking is what's next? There are several adventures in my future. The next big challenge facing me is writing. I have started my autobiography. This endeavor will take more commitment than Kilimanjaro, Rim to Rim to Rim or even the AZT. After that I am planning on a tandem bike ride from coast to coast, climbing Mt. Whitney, participating in an Iron Man competition and a few more long hikes. The Lord only knows where this will all lead.
Now that I am back home and getting back into my life's normal routines, I feel like this trek changed me in some fundamental way. I can't put my finger on how or what it is, but when I figure it out, I will let you know.
Thanks for following my story and Thank you so very much for all the prayers and well wishes sent my way. I felt the Lords guiding hand making it possible for this blind guy to make such a crazy journey a success. We were all truly blessed.