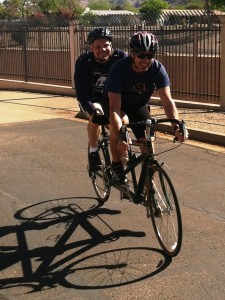 I have found a new passion for riding. After competing in the 2010 Adventure Team Challenge (a Colorado adventure race), I have felt compelled to get involved in both road and mountain biking. To this end, in July of last year I bought my first tandem road bike. After a few minor mishaps I have developed a love for this amazing sport.
On September 25, 2012 I am starting my first long distance ride. The event is called The Blind Ride and is a 390 mile bike-a-thon. The five day trip crosses Arizona starting at the I-10 highway and New Mexico border then finishes where Highway 8 meets the California border. This fundraising event is to benefit the Foundation for Blind Children's Braille Program.
At present my team for the Blind Ride consists of Ben Cane, Scoob Schmidt, Doug Bowden and myself. We are still working out some of the details for our support team. Ben has been on several of my previous endeavors including Kilimanjaro, the Grand Canyon and the Arizona Trail. Scoob is an avid mountain biker and competes in races throughout Arizona. Doug is a passionate Road Biker and participates in road biking events around the world.
The Blind Ride is going to be an incredible experience. If you would like to help me with this cause you can go to seeitourway.org to donate. Please feel free to follow our progress here at blindmotivation.com