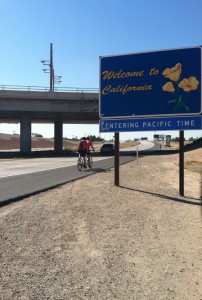 We made it! The final mileage turned out to be 376 miles, apparently we saved a few miles by riding through the City of Tuscon and taking Highway 84 through Eloy. This morning went really smooth it was nice to hang out with Anthony "Sarge" Herriage who helped with logistics during the Arizona Trail Hike.
We made it out on the road by 8:30 am and had a really smooth day. No flat tires and nice road until we hit a huge mountain just outside of Yuma. It dropped us down to our slowest speed of 7 mph.  Our descent however brought us up to a whopping 35 mph.
Our final finish time was about 2:15 pm.
At the boarder we were meet by two news stations and a newspaper journalist from Yuma. The entire experience was incredible; the thing I really appreciated about this ride was the time I had in my own head. Self analyzation really helps you clarify what the important things in life are; for me first and foremost comes my family. I would never be able to experience these types of adventures without my families support.
I want to give a serious thank you to my team Scot "Scoob" Schmidt (El Capitan), Benjamin Cane (Logistical Engineer), & Gene Longwell (Support Rider/Traffic Cop). These guys were awesome; their positive and comical approach to life made the ride a blast.
Also a special thank you to the Foundation for Blind Children for changing my perspective on blindness and enriching the lives of so many visually impaired and blind in Arizona. Tobin Ernst was like a 5th member of the team, and I've got to give him a thumbs up for all his hard work.
I received incredible support from the following hotels and bike shops.
Best Western in Yuma, Tuscon, & Benson
Comfort Inn in Lordsburg, NM
America's Choice Inn in Gila Bend
Sunday Cycles in Phoenix
Bicycles of Phoenix
An extra special thanks goes out to Doug Bowden; Doug was supposed to be part of our team but due to an unfortunate injury while participating in a charity ride with Tour de France he was unable to join us. Doug was an incredible supporter and I truly appreciate his gift of the Cannondale Tandem that we used on the ride. Even through you weren't able to enjoy the heat with us; you were with us in spirit.
On our ride we were able to pound out 99.6 miles on day 1, 98.5 miles on day 2, 103 miles on day 3 and 76 miles on the final day. During our ride our average speeds ranged from a low of 17 mph to a high of 23 mph with a total average of 20 mph. It was a great experience and I highly recommend it to anybody, regardless of what your passion is I highly recommend of stepping out and making it happen.
Ride on!